I admit it. Even in the best of times I sometimes wonder if I spend far too many hours and dollars assembling stacks of cardboard with baseball men on them. Now add the chaos we find ourselves in today, and it's even harder to deny the futility of this Hobby other than as an escape. That said, sometimes all that keeps us sane is the occasional break from reality. Better occasional than permanent, right?
I spent the first couple weeks of the pandemic mentally and emotionally checked out from card collecting. I didn't buy anything, I didn't write about anything, and I didn't even miss anything. Two weeks of experiencing life a little bit more like the other adults around me. (Not you guys, of course. The other adults!) Two weeks was all it lasted, but I think it changed me nonetheless.
Meanwhile some cool things were happening around the Hobby.
An anathema to many collectors, I genuinely enjoyed some of the creative work being done as part of Topps Project 2020. I even threw down $20 on one of the Dwight Gooden cards, making it the third or fourth most expensive card in my Dr. K collection of more than 700 cards the day I bought it. Bizarrely the price would hit $3500 just two months later, making it (while the mania lasted) the third most valuable thing I owned behind only my house and car.
Perhaps influenced by Project 2020, an artist-collector I followed on Twitter began something called the #MakeCardsMoarBetter project and invited other collectors to join. Sharp-eyed readers will no doubt find the two changes I made to Hank Aaron's 1969 Topps card. (My completed sheet is here for anyone interested.)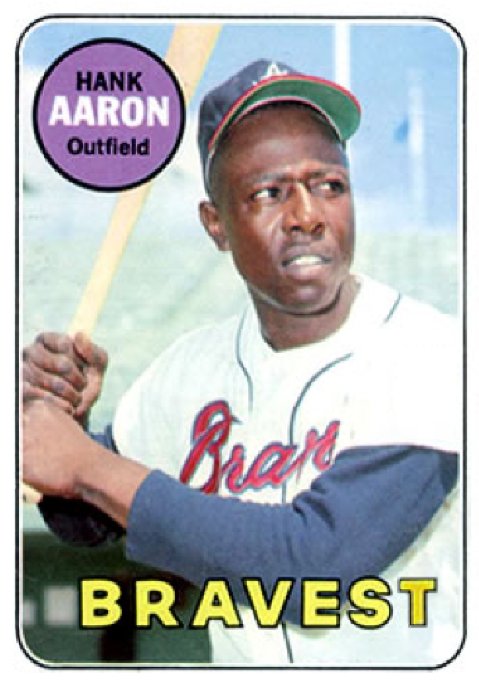 More renowned baseball card artists like Mark Mosley and Gypsy Oak were also putting together their own Project 2020 inspired creations, and don't even get me started on these guys!
In contrast with the usual "doing nothing" brought on by the pandemic, here were collectors doing things with cards: being creative, having fun, and building community.
Then George Floyd was murdered by Minneapolis police.
Cards, hobbies, and fun itself all became a form of privilege, with escape being the ultimate privilege. Still, that's not to say cards had no place.
Artist Scott Hodges went on a giveaway rampage to spread some positivity into the Hobby community…
…and Mike Noren, also known as Gummy Arts, put the original artwork behind his 1971 Pittsburgh Pirates All-Black Lineup set on eBay with all proceeds going to Black Lives Matter. (UPDATE: These same cards are now on their way to the Negro Leagues Baseball Museum!)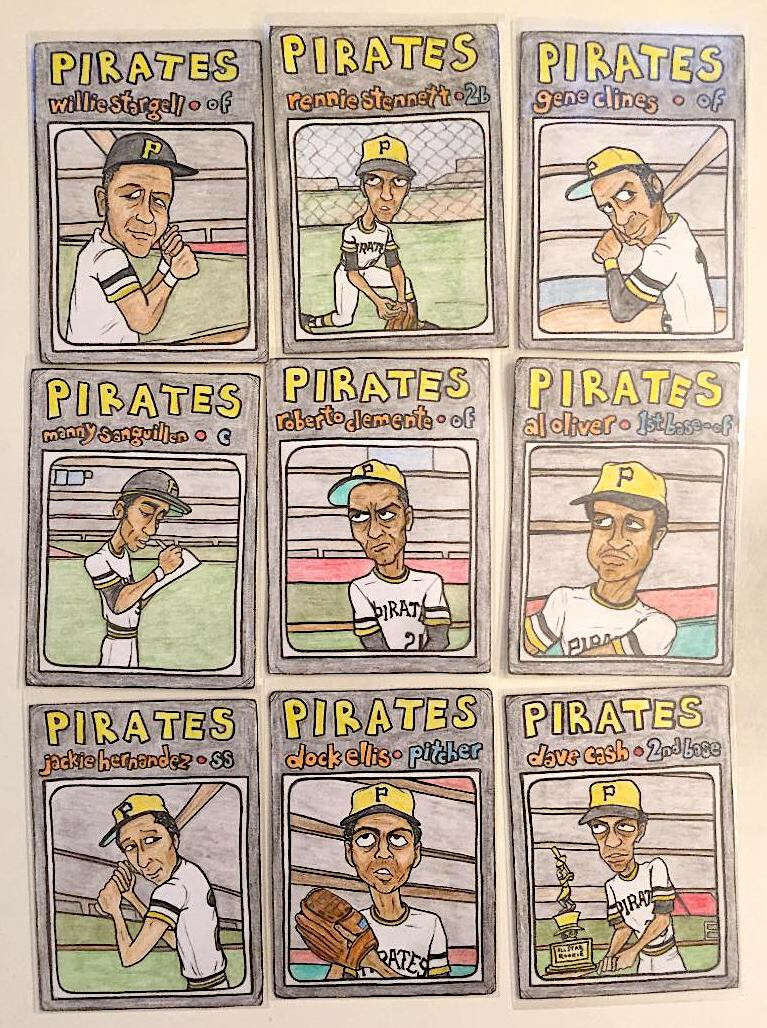 Again I was seeing collectors doing something and it made me wonder what I was doing.
Scissors, school glue, glitter paper, and a Wade Boggs rookie later, I'd managed to raise $45 for the Negro Leagues Baseball Museum with a card I made.
Now I'm cutting up old Dave Parker and Kirk Gibson cards to raise money for Parkinson's Disease research. (Team Cobra currently leads Team Gibby $25 to nothing, but I'm hoping eventually to raise at least $125 for each of their foundations.)
I've also had fun practicing on some other cards that I was able to find happy homes for across the Hobby community. There's even a registry for this kind of thing now!
At the end of the day, I still love the old stuff: my Aaron collection, my Brooklyn team sets, my Campy collection. What's different now is that I also love some other stuff: making and giving.
There was a time I'd look at my stack of 500 Kirk Gibson cards and think, "Not enough." Then I hit that point in collecting where I'd look at the same stack and think, "Too many." Now I'm at the point where I'd at least like to think each one of those cards, by itself worth maybe a nickel and already owned in spades by all the other Gibson collectors out there, could turn into something special for someone. Ditto Dale Murphy, Steve Garvey, Eric Davis, Doc Gooden, and all those other guys I have stacks and stacks of to this day.
If so, I wouldn't be the first guy out there turning junk wax into gold. I wouldn't even be the second. Or the third! And God knows I wouldn't be the guy making the most money off trimmed cards. All I can hope for is to be the guy having the most fun with it and at least in some small way making a difference in this goddamn crazy world of ours.
UPDATE: I have a website now for the work I'm doing. Enjoy!